We work with the
global leader in
nano-ceramic coatings
and films: Ceramic Pro
We deliver dealership exclusive services for automotive nano-ceramic coatings, paint protection films and nano ceramic window tint film installation.
The best
ceramic coatings and automotive films
Ceramic Pro is the global leader in nano-ceramic surface protection. We offer a range of ceramic coating and paint protection film products each formulated for specific surfaces. Our ceramic coatings and PPF are designed for automotive, marine, aviation and industrial applications. The coating formulas are molecularly designed for surfaces such as paint, vinyl, polymers, glass and more. Ceramic Pro coatings bond to surfaces at a molecular level, filling in any nano-pores and creating a hydrophobic surface that is impervious to contamination.
Naturally, our KAVACA PFF comes pre-coated with our flagship ceramic coating. This makes our products ideal for critical applications across all industries. No other surface protection products perform quite like this.
no other coating comes close
Ceramic Pro is a multi-layerable, clear, liquid nano-ceramic coating. When cured, this technology will transform itself on the surface to a permanent, durable yet flexible glass shield. Ceramic Pro can be described as an additional clear coat, with 3 times the hardness and self cleaning properties.
Good Investment
The slick coated surface won't allow dirt, brake dust and tar to stick to your paint, wheels or glass. This makes washing your vehicle less labor intensive and less frequent. Waxing is now obsolete.
Look New All The Time
Once the coating is applied you will see a mirror effect, glossiness and color depth, incomparable to anything else! With proper maintenance your car's finish will shine for many years to come.
LESS MAINTENANCE
The coating will protect the vehicle's exterior and interior from deteriorating for a lifetime. The resale market value will therefore be substantially higher! Ceramic Pro pays for itself in the end
Advanced KAVACA®
Paint protection films
Our highly advanced KAVACA® Paint Protection Film is designed and developed by internationally renowned Ceramic Pro manufacturers NanoShine LTD. KAVACA PPF is a high performance aliphatic polyurethane film. It is specifically designed to protect painted surfaces and other materials from abrasion, corrosion, chemicals, and other types of physical damage.
Within the KAVACA line of paint protective films, are multiple customized solutions
– including KAVACA Instant Healing Paint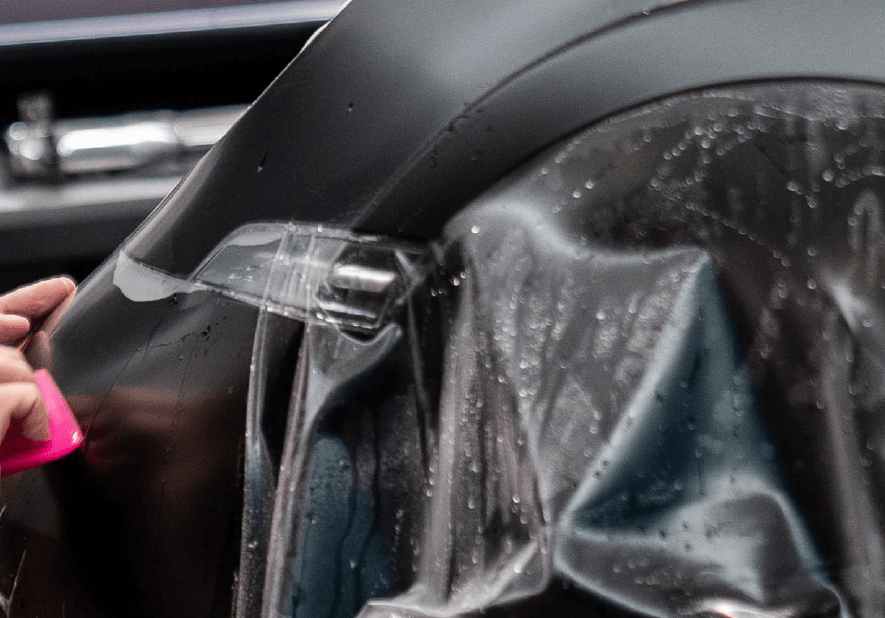 What makes
KAVACA PPF better?
KAVACA Paint Protection Film utilizes Ceramic Pro nanoceramic technology during production, improving the overall visual appearance of any surface it is applied. It likewise helps to seal minor imperfections on the paint surface, without the orange peel effect common with many automotive protective films.
The combination of advanced nanotechnology, the use of superior materials, and stringent quality control standards produces the highest-quality, longest lasting, and strongest adhesion of any paint protection film made today.
nano-ceramic window tint films
Ceramic Pro is the trendsetter in vehicle surface protection. KAVACA Window Film is engineered with nano ceramic particles and infrared blocking materials, which keeps up to 96% of heat producing IR rays from entering your vehicle. Additional proprietary technology ensures zero signal interference, with superior clarity, available in multiple VLTs – each backed by a LIFETIME WARRANTY.
KAVACA Window Films have been designed and tested with extensive research to give you the top looks and performance. Each automotive window tint is manufactured with superior-quality materials, integrates the latest technology, and assembled with the highest quality control standards.
What makes
KAVACA PPF better?
Quite simply, we are very proud to offer the most technologically advanced
window film ever created. Nano-technology developed by Ceramic Pro has
advanced to the point that our ceramic-infused IR window film can and will
surpass the performance of any other film on the market today.
All CERAMIC PRO nano-ceramic coatings, paint protection films and nano ceramic
window tint film are included in your CARFAX vehicle history report, adding
provable value to your car.