Best Window Tinting San Diego
Welcome to Excellence Auto Detail, your premier destination for automotive perfection. At Excellence Auto Detail, we understand that your vehicle is more than just a mode of transportation; it's a reflection of your personality and style. That's why we're excited to introduce you to KAVACA window tint, the pinnacle of automotive window tinting technology. KAVACA window tint not only enhances the aesthetics of your vehicle but also offers a multitude of practical benefits that will elevate your driving experience to new heights. Whether you're seeking enhanced privacy, UV protection, heat reduction, or simply a sleeker appearance for your vehicle, KAVACA window tint is the choice for those who demand nothing less than excellence. Join us as we delve into the world of KAVACA and discover why it's the ultimate choice for the discerning car enthusiast.
BEST WINDOW TINTING CHULA VISTA
Tinting your vehicle offers a fantastic opportunity for personalization while simultaneously providing essential protective advantages. Safeguard what's truly valuable with the addition of UV protection to your car today!
Preserves Interior
Enhanced Privacy
UV Protection
Heat Rejection for Comfort
Shatter-Resistant
Featured Package: CARBON X
Exterior Car Wash
Deep Cleaning of all Surfaces
Interior Vacuum and Shampoo
Deep Interior Cleaning
Clay Bar
Polish and Carnauba Wax
Starting at $450

Paint Chipping

Rock Chips

Road Salt

Bugs

Scratches

Tree Sap
KAVACA Ceramic IR stands as the epitome of window film, crafted using cutting-edge technology. Utilizing a unique nano-ceramic formulation, Ceramic Pro has integrated an infrared (IR) layer to provide exceptional heat rejection, glare management, and UV shielding—all without the use of metallic components. This technology supports optimal signal clarity for various electronic devices. With KAVACA Ceramic IR, you have the freedom to customize your vehicle from a selection of six shades, without compromising on clarity or sacrificing heat rejection, even with clear Visible Light Transmissions (VLTs). This advanced technology ensures a non-reflective, color-stable finish that remains vibrant and fade-resistant over time.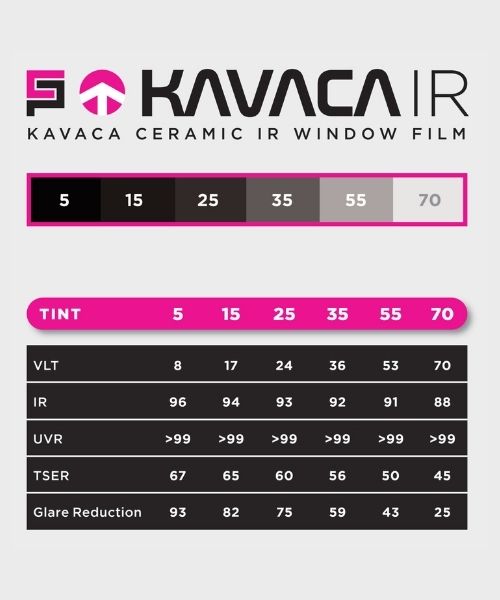 KAVACA Carbon Color Stable window tint boasts a proprietary formulation that prioritizes unparalleled clarity across all tint levels. This translates to an exceptional driving experience where you can relish in added privacy and aesthetic appeal without compromising your view of the outside world. The superior glare control not only sharpens your perspective of the road but also the heat rejection and UV protection amplify your comfort and safety. The most enticing aspect of it all is that this top-tier performance is steadfastly guaranteed to endure year after year.